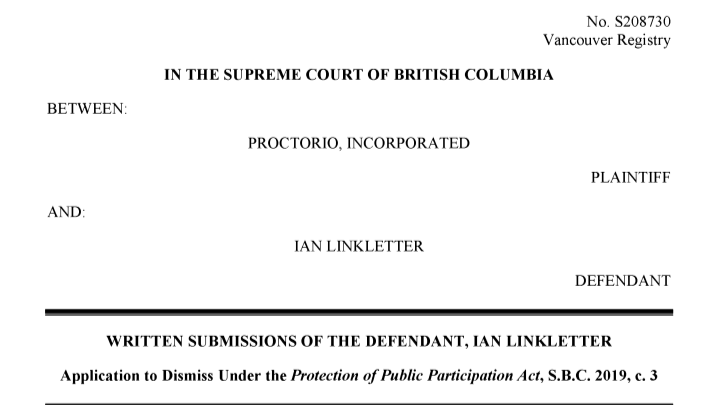 In one week, the Protection of Public Participation Act hearing will finally begin. From November 30th to December 3rd, 2021, we will be in BC Supreme Court arguing for the dismissal of Proctorio's lawsuit. The hearing will take place on Microsoft Teams, and I will share access information soon.
Proctorio will argue that because I have not been silent for the past 15 months, my application should fail and their strategic lawsuit against public participation should continue. But listen, freedom of expression can't be protected if it is not exercised. Flexing our freedom is the only way to keep warm from the chilling effect of SLAPPs.
The rights of all Canadians are under threat from Proctorio's SLAPP. My lawyers, Catherine Boies Parker, Q.C. and Caroline North, will protect them. I am so fortunate to be represented by Arvay Finlay LLP.
I just published 60 pages of our written submissions so you may review the facts, arguments, and authorities ahead of the hearing. They are at https://defence.linkletter.org and the direct link is: https://drive.google.com/file/d/1JtSlc1OhRSJkssFadrHtPaUZ1y2welT1/view?usp=sharing
This would not have been possible without you. Your support funded the strongest possible defence, giving me a chance against a giant. If we fully succeed and Proctorio is ordered to pay legal indemnity costs, this campaign will carry forward to the BCCLA to continue the fight for online rights and freedoms. You changed my life and it's just the beginning. Thank you so incredibly much!
Sincerely,
Ian Linkletter